Wildlife Preservation in India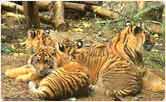 Nature has always helped mankind to flourish. But have we ever realized the fact that as humans what have we given to nature? Are we at all concerned about the nature that serves us so well? Does making necessary plans and implementing them in order to save the unique and endangered species existing in India mean something to us? Wake up before it is too late. It is the right time when we should join hands with the associations working for preserving wildlife in India.
Animals and birds are amongst the most beautiful creations god has ever created. These creatures adorn the nature through their extraordinary way of existence. Wildlife is an inseparable part of the natural treasure. But India is continuously losing this heritage because of deforestation and several other reasons too. Only a handful of wildlife enthusiasts are actually concerned with conserving endangered species through serious efforts.
In order to promote wildlife awareness in every nook and corner of the country, the Government of India has started some natural programmes and projects like Project Tiger to save the tigers from being extinct. It has till date been the most successful step that has led to the preservation of the tigers in India. Then there are jungle lodges and nature camps that have been established. These projects have been started not only to save the declining numbers of animals but to encourage eco-tourism as well.
Several national parks have taken steps to protect those species which are on the verge of extinction. For instance, the Gir National Parks is the one and only home to the existing Asiatic lions in India. Yet another remarkable instance is that of the Kaziranga Sanctuary is Assam that functions as a habitat of the endangered Rhinoceros. Then, Periyar in Kerala conserves the Wild Elephants.
Not only government but the common man will also have to take steps in this regard. Let us save the rich and diverse wildlife and the mother Earth!