The Ranthambhore Bagh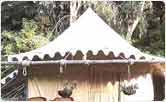 Access : 170 Kilometers from Jaipur Airport and 5 Kilometers from Sawai Madhopur Railway Station
Accommodation :12 Rooms and 12 Tents
Cuisine : Indian and Continental
Facilities : Bird watching, Trekking, Jeep safari, 24 hour room service
The Ranthambhore Bagh was established in the year 1998 for those wildlife travelers who come to see the wilds of the Ranthambhore National Park. In the beginning, there were only 12 air conditioned rooms at the resort. Now, 12 luxury tents have been added to the resort keeping in mind the taste of the travelers. These are pitched in the garden and offer all the facilities that the modern lifestyle demands. Not only for the tourists who love wildlife, but the resort became a favourite hang out for photographers and movie crews. Ranthambhore Bagh is an ideal stay point while you are on your trip to Ranthambhore.
Beautiful gardens dot the outdoors of the resort. These gardens are filled with several trees, unlike other resorts in the region. The resort is the perfect for the bird lovers as above 150 birds can be seen inside the campus of the resort.
Apart from being mouth-watering, the food served at the resort is of good quality. It is served in the beautifully landscaped garden where you can catch a glimpse of the Magpie robin while you have your meal. The resort serves dishes from Indian and Continental cuisines.
Facilities such as Bird watching, Trekking, Jeep safari, 24 hour room service, Camel Safaris and Laundry are available at the resort.