Jewel of the Jungle Resort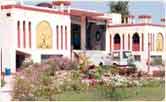 Access: 35 Kilometers from Khajuraho Airport and 90 Kilometers from Satna
Accommodation : 10 Suites and 16 Cottages
Cuisine : Multi-Cuisine
Facility : Doctor on Call, Herbal Massage, Laundry, Childcare, Yoga Sessions, Wheelchair, Special Meals for Diabetics and 24 Hour Room Service
Located opposite the Madla Gate of Panna National Park, it is a peaceful getaway from the hectic routine life. It is a preferred choice of those who love nature as it has been designed in eco-friendly manner. The lodge has solar heating systems and power back-up and waste is recycled. Everything ranging from good food to comfortable living is available in Jewel of the Jungle Resort, Panna.
There are 10 luxury sites and 16 deluxe cottage rooms. All these rooms are air-conditioned and equipped with televisions, telephones and tea making facilities. Each room has a balcony that offers a majestic view of the surrounding. The staff of the hotel is 24 hours at your service
Pamper your taste buds with the delicacies offered by the multi-cuisine restaurant of resort. Savour your preferred cuisine. Enjoy an evening with coffee and snacks at the coffee shop, Garden Café. This is not all, there is a lounge as well where you can enjoy beverages while you read or watch television.
The facilities that The Jewel of The Jungle provides to its guests includes Doctor on Call, Herbal Massage, Laundry, Childcare, Yoga Sessions, Wheelchair, Special Meals for Diabetics and 24 Hour Room Service.
While you stay in The Jewel of The Jungle resort you can enjoy a couple of activities that the resort is packed with. These include jeep safaris through the Panna Tiger Reserve, trekking and fishing expeditions and theme dinners. Also spare some tome to see the Rajgarh Fort, Pandava Falls and Interpretation Center.