Aman - E - Khas Ranthambhore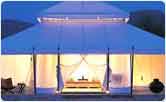 Access : 180 Kilometers from Jaipur Airport and 10 Kilometers from Sawai Madhopur Railway Station
Accommodation : 10 Luxury Tents
Cuisine : Multi-Cuisine
Facility : Lounge, Library, Spa Treatment, Nature Walks and Camel Safaris
Aman-e-Khas is a luxury jungle retreat. It is an extraordinary wilderness resort set amidst the desert landscape of Rajasthan. Located on the outskirts of the Ranthambhore National Park, the resort is surrounded by brushwood hills. The luxury tents of the resort are pitched in a rural area that is quite peaceful, as its name suggests. The ideal period for spotting wildlife continues from October to April. Therefore, the camp is set only during this period of time.
The accommodation option at the camp includes ten luxurious and comfortable tents. The structure of each tent constructed of canvas reflects the Mughal style of architecture. All the tents are similar in design and a steel frame supports them. The interiors are draped all in cotton. There is a screened area on the entrance of each tent. A dining table with chairs and an arm-chair adorns this area of the tent. The centre of the tent ascends to a six-metre canopy. Right beneath the canopy lies a king-sized couch, the best place to relax.
Further, there are sections for sleeping, dressing and bathing. A king-size bed and two writing desks are present in the bedroom. Each bathroom is equipped with a shower and a tub. Twin vanities and spacious cupboards are provided in the dressing area. All the tents are air-conditioned.
This is not the end... There are another three tents that function as a place for dining in the resort. The dining place is well-furnished and served delicious delicacies. Choices from Indian cuisine together with a selection of western dishes are served to the guests at the resort. Meals are organized in different places and sometimes around the outdoor fire too. Most of the vegetables used for cooking are grown in the vegetable garden of the resort.
Numerous facilities are available at the resort. You can relax at the Lounge Tent which is a perfect place to chill out. Then there is a library which is equipped with numerous books that you can choose to read. Fond of shopping? Buy local handicrafts, sundries, CD players and fabrics. The camp organizes jungle safaris thorough the park. Go for a spa treatment after the much tiring park tour.