Hotel Sariska Palace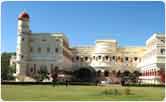 Access : 110 Kilometers from the Jaipur Airport and 36 Kilometers from the Alwar Railway Station
Accommodation : 101 Rooms
Cuisine : Multi-Cuisine Restaurant
Facility : Swimming Pool, Village Safari, Jeep Safari, Horse Safari, Camel Safari, cultural shows, indoor and outdoor games, Ayurvedic massage, library, bird watching, nature walks, conference facilities, health club
Sariska Palace in Rajasthan was built in the year 1892 and served as a hunting preserve for the Maharaja of Alwar. It has now been transformed into a Heritage Hotel that offers an unforgettable stay. The hotel lies very close to the quiet and thickly wooded Sariska National Park. The architectural grandeur and the natural surroundings of the palace are admired by one and all. The hotel serves as an ideal gateway to the wilderness of the Sariska National Park. The folk music and dances held in the evening make it a retreat for the travelers.
Sariska Palace is home to 101 elegantly furnished rooms. Each room is equipped with modern facilities and promises to its guests a comfortable stay. The facilities include round the clock hot and cold running water, domestic and international calling facilities and safe deposit facility. A wonderful view of the surroundings is visible from the rooms. The management of the Sariska Palace boasts of providing one of the best room services in the hotel industry throughout the country. Savour the multi-cuisine dishes served at the restaurant inside the hotel.
Besides these delights, Sariska Palace Hotel also provides some facilities for the recreation of its guests. Nature walks, jeep safaris and horse safaris in the nearby Sariska National Park, swimming pool, cultural shows, library that has books relating to wildlife and nature, health club, conference facilities and bird watching are available. The Sariska Palace Hotel is a jewel set amidst the desert land.