Kanha National Park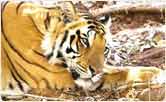 Location: Mandla District, Madhya Pradesh
Ideal Time to Visit: April to June and November to January 
What to See: Tigers, Bears and Leopards
Though tigers have been preserved by several tiger reserves in India, you can see them regularly and quite often only in the Kanha National Park. Covering an area of about 1,940 square kilometers, the Kanha National Park is situated in the Mandla District, Madhya Pradesh. River Surpan flows through the park with its edges dominated by steep rocks. Bamboo and Sal forests dot the terrain of the park.
Several species of deer like spotted deer, swamp deer, antelope and barking deer are observed here. Spotting wild animals here is not a matter of luck as the park is extremely rich in wildlife. Apart from spotting animals like leopard, mongoose, hyena, nilgai, wild pig, jungle cat and porcupines a full bird show can also be seen here. The park houses above 175 bird species.
Entry Requirements
An entry permit has to be obtained from the entry gate of the park. The permit is very cheap. Extra charges are tagged for hiring vehicles, hiring guides and elephant rides. Excursions in the park are allowed only at fixed timings. Confirm the designated time from the authorities. Walking on foot is restricted in the park.
Getting There
The nearest airport is at Nagpur which is 266 kilometers away from Kanha. It is well-connected to Mumbai and certain other important cities as well. The most convenient railhead is at Jabalpur which is 169 kilometers from Kanha National Park. Regular buses and private taxis are available from Jabalpur to Kanha.
Don't Miss
The best way of viewing wildlife at the Kanha National Park is from the back of an elephant. An elephant safari enables you to discover paths and ways that you could not have seen otherwise. The museum inside the Kanha National Park should be visited while you are in the park. The museum not only depicts the attributes of the park but also highlights the culture of Madhya Pradesh.
You can select a tour package from wide range of available tailor-made India Wildlife Tour Packages, or send your requirement details to get a customized tour package as per your needs.