Tal Chhaper Wildlife Sanctuary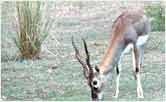 Location: Churu District in Rajasthan
Ideal Time To Visit: September to March
What To See: Black-bucks and Migratory Birds
Tal Chappar Sanctuary lies in the Churu district of Rajasthan. It is merely 80 kilometres away from Mandawa. Covering an area of 1,334 square kilometres, the sanctuary is popular because of its black-bucks. A unique ecosystem exists in this exotic park. Open grasslands covered with trees of Acacia ans Prosipis dot the landscape of the Tal Chappar Sanctuary. These trees lend a typical Savanna look to the sanctuary.
The sanctuary acts as a home to several migratory birds as well. The harriers are the most spectacular of all the migratory birds that come here in September. The most common birds include montagur's and marsh harrier. Other birds that can be observed chirping and flying around in the Tal Chappar Sanctuary include Ben Harrier, Imperial Eagle, Blue Jay, Tawny Eagle, Ring Drove, Sparrow Hawk, Skylark, Green Bee Eaters, Crested Lark, Brown Dove And Demoiselle Cranes.
Small hills and rocks of quartz and slate can be seen scattered in the sanctuary. A watershed area is also present in the sanctuary. During the heavy rains, the rain water collects in the watershed with hardly any rain water reaching inside the sanctuary.
Entry Requirements
Pay the entry fees at the entry gate. Extra charges will be levied for carrying photographic equipments inside the sanctuary.
Getting There
Chappar is the nearest railway station from the Tal Chappar Sanctuary. Sanganer in Jaipur is the closest airport. The Tal Chappar Sanctuary is about 215 kilometres from Chappar. One can hire private taxis to cover this distance. Chappar is connected by a navigable network of roads with all the big and important cities in Rajasthan. Buses also connect Chappar to New Delhi directly.
Don't Miss
A horse safari from Nawalgarh (nearby Chappar) up to the Tal Chappar Sanctuary will be the best way to observe the highlights of this black-buck park.
While you are on your visit to the Tal Chappar Sanctuary, spare time to visit the richest region of Rajasthan in terms of arts called the Shekhawati. The paintings displayed in the havelis of Mandawa and Nawalgarh regions of Shekhawati are simply stunning.
Salasar Balaji Temple, Lord Venkateshwara Temple and Sri Digamber Jain Mandir are some of the beautiful temples that are situated in close proximity from the Tal Chappar Sanctuary.
You can select a tour package from wide range of available tailor-made India Wildlife Tour Packages, or send your requirement details to get a customized tour package as per your needs.