Kumbhalgarh Wildlife Sanctuary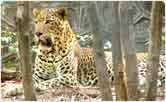 Location: Udaipur, Rajasthan
Famous For: Wolf, which is rarely found elsewhere
Ideal Time To Visit: October to June
Covering a total area of 578 kilometres of the desert landscape, the Kumbhalgarh Sanctuary in Rajasthan is unique in that it displays the activities of the wolf which is rarely found anywhere else. The sanctuary functions as a home to about 40 such wolves. The best time to visit the sanctuary is between October to June. But if you can bear the heat, come during the summer months. Because of the scarcity of water, it will be easier to spot the wolves nearby the water holes.
A wide variety of animals can be observed in the Kumbhalgarh Sanctuary. It houses some endangered and rare species as well. The animals that inhabit the sanctuary include wolf, nilgai, jackal, jungle cat, leopards, four-horned antelope, sloth bear, hyena, chinkara, sambhar and hare.
An equally vivid bird life exists at the Kumbhalgarh sanctuary. Birds that can be seen in the sanctuary include the grey jungle fowl, dove, parakeets, peacocks, golden oriole, grey pigeons, bulbul and white breasted kingfisher.
The natural beauty of Kumbhalgarh attracts tourists from far and wide. Because of its easy accessibility from Udaipur, Kumbhalgarh Sanctuary has become a favorable tourist destination. Trekking on foot and horse safaris organized by the tour operators are quite popular.
Entry Requirements
Before entering the Kumbhalgarh Sanctuary, permission of the forest ranger has to be taken. Entry fees have to be paid. In case you carry photographic equipments inside the sanctuary, you will have to pay extra.
Getting There
Udaipur is the nearest airport from the sanctuary. It is connected to important cities of India like Delhi and Mumbai through regular flights. The nearest railhead also located at Udaipur. Trains are available from Delhi, Ahmedabad, Mumbai and Jaipur. Kumbhalgarh is easily reachable from Udaipur which is about 90 kilometres off. Take regular buses starting right away from Udaipur or hire private taxis from Udaipur in order to reach the Kumbhalgarh Sanctuary.
Don't Miss
In near proximity from the Kumbhalgarh Sanctuary lies the Kumbhalgarh Fort. The stunning fort in the Rajasmand district of Rajasthan has remarkable interiors marked by an array of magnificent temples. Badal Mahal (Palace of Clouds) is the most imposing in-house structure amongst all the others constructed by the Maurayas. The fort still preserves the ancient ruins and catapults hordes of tourists.
You can select a tour package from wide range of available tailor-made India Wildlife Tour Packages, or send your requirement details to get a customized tour package as per your needs.