Sariska National Park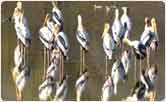 Location: Alwar District, Rajasthan
What To See: Tiger and Leopard
Ideal Time To Visit: October to June
Established in 1955, Sariska is a big hit with tourists not only from India but also from Abroad. It was declared a Tiger Reserve in 1978 and now falls under Project Tiger Scheme of India. Covering an area of 800 square kilometre, the topography of the national park consists of hills,valleys, dry deciduous forest, scrub-thorn arid-forest, grasses and rocks.
Sariska Wildlife Sanctuary is a home to several wildlife species such as leopard, jackal, wild boar, nilgai, sambar, hyena, langur, jungle cat, four-horned dear and chital. Several bird species are also observed in the park. Birds like Peafowl, Sand Grouse, Golden backed Wood Pecker, Grey Partridge, Crested Serpent Eagle, Bush Quail and the Great Indian Horned Owl. Opt for a jeep safari and experience the wilderness of Sariska National Park at its best.
Entry Requirements
All visitors have to pay rupees 25 at the entry gate before entering the park. Extra charges are tagged for carrying in cameras and vehicles.
Getting There
Jaipur is the nearest airport from Sariska National Park. Alwar is the nearest railhead which is at a distance of 37 kilometres from Sariska. The national park is located on the Delhi-Jaipur highway, very close to Jaipur. Buses and private taxis are available from Jaipur as well as Alwar that will help you to reach the Sariska National Park. 
Don't Miss
Located within the premises of the Sanctuary, the Kanakwari Fort holds sheer historic importance. Years ago in the 17th century the Mughal Emperor Aurangzeb consumed by a selfish desire of the Throne, put his own brother, Dara Shikho, into prison. Huge Sariska Palace built by the Maharaja of Alwar, Jai Singh, is another palace of interest for the tourists. It has now been converted into a hotel.
Neelkanth Temples located within the sanctuary take you back to the 10th century.
You can select a tour package from wide range of available tailor-made India Wildlife Tour Packages, or send your requirement details to get a customized tour package as per your needs.