Sitamata Wildlife Sanctuary, Udaipur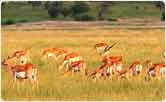 Location: Udaipur (108 kilometres off), Rajasthan
Famous For: Flying Squirrel
Ideal Time To Visit: October to June
Amidst the forest of dry deciduous and bamboo vegetation, spreading over the foothills of the Aravalis lies the SitaMata Sanctuary. The SitaMata sanctuary is at a distance of 108 kilometres from Udaipur City. Apart from the diverse fauna that houses here, you can see a vast variety of flora too. Approximately half of the total flora present in park constitutes of teak trees. Besides these, other trees that dominate the landscape of this sanctuary include tendu, salar, bel and amla.
The SitaMata Sanctuary provides rich pastures for a variety of deer including the four-horned antelope (Chousingha). The sanctuary also acts as a home to other animals like wild boar, leopard, pangolin, fox, jackal, hyena, porcupine, jungle cat and nilgai. Accommodation is not a problem while you are on your way to explore the SitaMata sanctuary. The visitors can stay at the Arampura Forest Guest House that is situated inside the sanctuary.
Amongst the diverse wildlife that this sanctuary houses, the flying squirrel is the most attention seeking animal. The animal hides itself during the daytime. But you can observe it flying from tree to tree after the sun sets. Between the months of February to March is the best time of the year to spot the activities of the flying squirrel. Squirrels can be easily seen on the leafless trees during these winter months.
If mythology is to be believed, it says that Goddess Sita (wife of Lord Rama) stayed in this sanctuary during the period of her exile; that's why it is called Sita Mata Sanctuary.
Entry Requirements
Seek the forest ranger's permission before entering the sanctuary. And pay the required entry fess.
Getting There
Regular flights from Udaipur and Jaipur are connected to the main cities of India. After reaching Udaipur or Jaipur one can easily get local buses and private taxis from there that will take the tourist till the SitaMata Sanctuary. Then, there are regular trains that connect Jaipur to important cities like Delhi, Mumbai and Ahmedabad. Reaching over to the SitaMata Sanctuary from the Jaipur Railway Station is very easy.
Don't Miss
The forested SitaMata sanctuary lies about 108 kilometres away from the City of Lakes – Udaipur. While you are on your tour to the SitaMata Sanctuary, spare time to see the imposing forts, gardens and museums that fill the city of Udaipur. Do not miss to visit impressive structures like Lake Palace, City Museum, Sajjan Niwas Garden which are amongst the few names worth mentioning.
You can select a tour package from wide range of available tailor-made India Wildlife Tour Packages, or send your requirement details to get a customized tour package as per your needs.