Desert National Park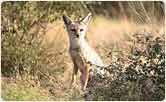 Location: Jaisalmer, Rajasthan
Ideal Time To Visit: November to March
What To See: Great Indian Bustard, The Thar Desert Ecosystem
Diverse wildlife that exists amidst the Thar Desert can be observed in the Desert National Park. The Desert National Park is situated in the vast oceans of sand near Jaisalmer City. It is spread over a total area of approximately 3162 square kilometres and is one of the largest national parks in the country.
Approximately 20% of the total area of the park is covered by the sand dunes. The landscape of the park is dominated by rocky terrain and fixed sand dunes that make it a convenient residing option for the chinkara. Blackbucks are commonly found in the Desert National Park. Other resident animals include Bengal Fox, wolf, desert fox and jungle cat.
The park houses a forest post, Sudashri. It is the most suited place for taking snapshots. Diverse fauna of the Desert National Park can be easily seen from here. About five bustards can be seen collectively near the Sudarshi water hole.
Bird life that resides at the Desert National Park is also spectacular. Bird lovers will enjoy watching the activities of birds like bee-eaters, partridges, sandgrouse, larks, demoiselle crane, honey buzzards, falcons and houbara. The tall and heavy Great Indian Bustard is the major highlight of the park as it is rarely seen in any other location in India. The bird is an epitome of grace.
Fortunately for the holidaymakers, there are a variety of accommodation options in Jaisalmer to suit every taste and pocket. There are forest lodges, guest houses, small and big hotels as well as luxury hotels in the city. Apart from the accommodation option available in the city, there are two forest lodges and restaurants each inside the park.
Entry Requirements
All the visitors looking forward to explore the Desert National Park have to pay an entry fee of 100 rupees per head. Hiring a jeep or a car costs another 100 rupees and hiring a coach costs 200 rupees extra.
Getting There
Jodhpur airport is the nearest airport. It is connected to the bigger as well as smaller cities of Rajasthan. Jaisalmer has the nearest railhead. The sanctuary is approximately 40 kilometers away from Jaisalmer. Buses and taxis to Rajasthan are easily available from Jaisalmer City.
Don't Miss
Jaisalmer is the nearest major city. The desert national park is just 40 kilometers off Jaisalmer. The Havelis of Jaisalmer are immensely beautiful. These architectural wonders are great crowd pullers. During the tour to the Desert National Park, do visit the magnificent Jaisalmer Fort in Jaisalmer City. It is known world over for its grandeur.
You can select a tour package from wide range of available tailor-made India Wildlife Tour Packages, or send your requirement details to get a customized tour package as per your needs.