Ranthambhore National Park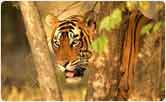 Location: Sawai Madhopur District, Rajasthan
Ideal Time To Visit: October to March
What To See: Tigers and ancient monuments
Reputed to be a praiseworthy reserve of India, the Ranthambhore National Park is the single dry deciduous tiger home worldwide. Located in the Sawai Madhopur district, the Ranthambhore National Park is spread over an area of 1,334 square kilometres. You can observe at this Tiger Reserve the Jungle King in wild! This park is open from October to June for the tourists.
Ranthambhore National Park is the true den of the tigers. Near the confluence of the lakes namely Padam Talab, Raj Bagh Talab and Milak Talab, tigers can be observed in plenty. Apart from the Bengal Tiger, other animals that inhabit the park are Sloth Bear, Jackals, Marsh Crocodile, Leopard, Gazzelle, Indian Hare, Porcupines, Jungle Cat, Sambhar, Chinkara, Mongoose, Nilgai, Wild Boar and Monitor Lizards. Birds can also be seen in huge numbers here.
The Ranthambhore National Park is equally rich in flora. Trees like Banyan, Dhok, Mango and Pipal are in abundance. The landscape of the park is dominated by shallow lakes, gentle slopes and plateaus.
Entry Requirements
Pay the required entry fees at the entry gate. Extra charges are levied for carrying photographic equipments inside and hiring of cars.
Getting There
The Jaipur airport is the nearest one. It is 145 kilometres away from the Ranthambhore National Park, roughly a three hours drive. At a distance of approximately 11 kilometres from the park is the Sawai Madhopur Railway Station that is connected to almost all the major cities of India. Buses ply regularly to important places in Rajasthan and throughout the country as well.
Don't Miss
Besides rich wildlife, the Ranthambhore National Park also has other attractions in its sleeves. The Ranthambhore Fort and Jogi Mahal are sights not worth missing. The Ranthambhore fort is an ancient monument. This magnificent fort was constructed in the 10th century in the centre of the park. The Jogi Mahal is a rest house where the visitors can stop overnight during their visit to the park. In order to get the real taste of rural Rajasthan, one can visit the Sawai Madhopur Village which is situated near the National Park. It houses some splendid monuments of historical importance.
The flowers of the forest create an infatuating fiesta across the landscape of the park when they bloom. An elephant or a jeep ride is the best way to unravel the hidden mysteries of the close-knit jungle.
You can select a tour package from wide range of available tailor-made India Wildlife Tour Packages, or send your requirement details to get a customized tour package as per your needs.