Hotel Sariska Tiger Heaven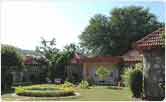 Access : 108 Kilometers from the Jaipur Airport and 35 Kilometers from the Alwar Railway Station
Accommodation : 10 Cottage Rooms
Cuisine : Multi-Cuisine
Facility : Discotheque, Hall for Informal Conferences, Garden Area for Activities and Barbecue, Florist, Car Parking, Travel Desk, Doctor on Call, Laundry and Jeep Safari
Located on the slopes of the hills of the Sariska Tiger Reserve, enclosed by clean and unpolluted surroundings lies Hotel Sariska Tiger Heaven; covering an area of 5 acres of land, with several native trees dominating the landscape. The hotel was promoted by Dinesh Durani, one of the finest wildlife expert and wildlife naturalists in India. One can reach this hotel in less than four hours from Delhi and less than two hours from Jaipur. The structures of great architectural and historical importance in Sariska pale before its wildlife and dry deciduous forests. The Sariska Tiger Heaven is an ideal place to stay while you come over to explore the wilds of the Sariska National Park.
Hotel Sariska Tiger Heaven has 10 air-conditioned cottage type rooms. Built in stone, the rooms have cobbled pathways and terracotta roofs. All the rooms have facilities that the modern day lifestyle demands. Each room is equipped with a private shower with running hot and cold water, direct dial telephones, color television and 24 hours room service.
Walk right in the resort restaurant which serves Indian, Continental and Chinese cuisine. The food is simply delicious. Then there is a well-stocked bar as well. Spirits from India and abroad are served here. The coffee shop at the resort is the best place to relax in the evening time.
The other amenities that are provided to the guests in the resort include a discotheque, a hall for informal conferences, doctor on call, garden area for activities and barbecue, bon-fire, laundry, travel desk, florist, car parking, jeep safari and bird watching.