Bandhavgarh Jungle Lodge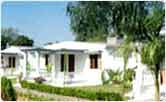 Access : 190 Kilometers from Jabalpur Airport, 210 Kilometers from Khajuraho Airport, 30 Kilometers from Umaria Railway Station and 325 Kilometers from Kanha Jungle Lodge.
Accommodation : 12 Cottages and 8 Rooms
Cuisine : Multi-Cuisine Resort Restaurant
Facilities : Library on Wildlife, Residential Naturalist, Village Safaris and Recreation Centers
Bandhavgarh Jungle Resort is situated very close to the Bandhavgarh National Park. Its proximity to the Bandhavgarh National Park enables the guests at the lodge to hear the roar of the tiger or the calls of a deer. It adds excitement to this already exciting tour. The Lodge has been decorated tastefully so that its architecture blends with the surroundings. The design of the resort is like a typical Indian Village.
The resort has a total of twenty rooms in all; twelve of these are cottages type rooms. All rooms are equipped with modern amenities and have a private shower. The resort houses a well, a temple and an organic garden as well. All of these make the resort a unique setting. While you stay in the lodge you will discover that the atmosphere here is friendly and relaxing.
The dining room at the lodge is very spacious. Based on the theme of an Indian village, the architecture like the rest of the resort has a thatched roof. Continental and Indian cuisine served at the dining place is delicious.
The facilities for recreation that the lodge provides include a professional naturalist. Then there is a library that has books and magazines based on wildlife and nature. Other activities at the lodge include jungle safari in open jeeps, nature walks, bird watching and visits to the nearby villages and markets. Bon fire, bar-be-que dinners accompanied by tribal dances invite you to spend an evening at a leisurely pace.