Taj Garden Retreat Periyar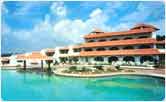 Access : 140 Kilometres from Kochi Airport
Accommodation : 32 Cottages type Rooms
Cuisine : Multi-Cuisine
Facilities : Swimming Pool, Ayurvedic Centre, Library, Spice Plantation Tour, Boating on Periyar Lake
Rich in natural material and comfort, the Taj Garden Retreat offers a welcome respite of relaxation. Neighbouring the Periyar Wildlife Sanctuary, the resort covers an area of three and a half acres of land. The resort has 32 charming thatched roof cottages. These rooms are encircled by dense woods. Each room is well furnished and beautifully adorned. Modern facilities like present in all rooms. Apart from the ordinary services offered by a four star hotel, the Taj Garden Retreat has an ayurvedic centre as well. Spend a perfect laid back vacation while you come to see the diverse wilderness of the Periyar Wildlife Sanctuary.
Enjoy a multi-cuisine experience with the finest traditional local dishes at the comfortable dining hall, the Periyar Room. To keep you in high spirits, cocktails and mocktails are served at the wee stocked bar, the Hornbill Bar. It is a perfect place to relax after you come from the tiring wildlife tour.
Apart from the facilities available in each room, the guests can take advantage of the recreation activities such as swimming pool, library and massage centre. Trips to spice plantations and boat rides on Periyar Lake can be arranged on special requests of the guests.