Hotel Laxmi Vilas Palace Bharatpur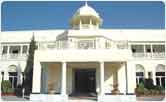 Access: 190 kilometres from New Delhi, 55 kilometres from Agra and very close to the Keoladeo National Park
Accommodation: 26 rooms and suites
Cuisine: Indian and Continental
Facilities: Camel Ride, Theme Dinners, Village Excursion and Swimming Pool
The Laxmi Vilas Palace in Bharatpur is a Heritage Hotel which covers an area as vast as 50 acres. Extensive yellow mustard fields dot the surroundings of this palatial structure. The structure was constructed in 1887. The architecture is a blend of the Mughal and Rajput architectural styles.
Its massive entry gate is carved out beautifully entirely from red sandstone. The spacious rooms of the hotel open into the splendid courtyards adorned by a marble fountain and impressive cupolas that add to the beauty of the picture.
At the Laxmi Vilas Palace, there are 26 rooms and suites that are decorated with exquisite mural paintings. But this is not all as hospitality here goes far beyond spacious rooms, traditional décor and antique furniture. Homely warmth, special attention given to preserve the rich heritage of the state and personal involvement is what distinguishes the Laxmi Vilas Palace from the rest.
The staff most cordially treats the visitors to the delicious dishes of Indian and Continental cuisines. Maintenance of hygiene is given special attention while the choicest of dishes are served. The aroma that fills the dining place makes dining a wonderful experience.
Facilities of recreation that the hotel provides to its guests include camel rides, theme dinners, a swimming pool and village excursions. Rent a bicycle and a pair of binoculars and set out for a happy bird watching time at the Keoladeo Ghana Bird Sanctuary. It is a memory that lasts.