Corbett Riverside Resort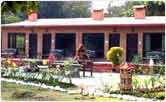 Access : 11 Kilometres from Ramnagar Railway Station
Accommodation : 25 Deluxe Suites and 10 Deluxe Double Rooms
Cuisine : Multi-Cuisine
Facilities : Swimming Pool, Wildlife Safaris, Horse Riding and Indoor Sports
The Corbett Riverside Resort is a luxury wildlife resort that is situated adjacent to the far famed Corbett National Park. The resort offers you to enjoy observing the wildlife in their natural habitat and appreciate the serenity and natural beauty of the surrounding environs.
The accommodation at the resort is comfortable. Each of the 25 deluxe suites is air-conditioned. The rooms are spacious so much so that apart from the bed, they also have a fireplace and a separate sitting area. These big and airy rooms are tastefully adorned and restored. Each of the large and airy double room is equipped with modern amenities and a private shower. The furniture in these 10 rooms is quite traditional.
The restaurant of the resort serves lip-smacking delicacies from Indian, Continental and Chinese cuisines. In addition to these, the expert chefs can also cook Tandoori and Bar-be-que on special requests from the guests. The best place of the resort where you can enjoy the food is the restaurant's open deck. A beautiful view of the river can be captured through the restaurant.
Stay at the Corbett Riverside Resort while you explore the wilds of the Corbett National Park. The complete holiday will surely renew your spirits.