Tuli Tiger Resort Kanha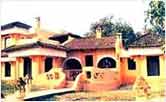 Access : 160 Kilometers from Jabalpur Airport and 160 Kilometers from Jabalpur Railway Station
Accommodation : Cottage Style Rooms
Cuisine : Indian and Continental Cuisine
Facility : 24 hours Room Service, Laundry, Conference Facility, Fishing, Audio Visual Theater and Pool Table
Tuli Tiger Resort invites tiger lovers from all parts of the world in order to explore Kanha. The resort is located very close to the Kanha National Park. Tuli Group is known for providing the best of security and comfort to it guests. The setting of the resort is such that staying there gives a feeling of camping in a jungle. The resort is a reputed one like the others that come from 'Tuli International' people. To experience all this and more one has to be right there. The Tuli Tiger Resort is situated in the buffer zone of the Kanha National Park.
The accommodation at the Tuli Tiger Resort includes air-conditioned cottage style rooms. The interiors of the room are like a village set-up and have large windows. Each room opens into a verandah wherein you can relax from dawn to dusk and observe the tranquility of the forest. All rooms have an attached European style bath. Pamper your taste buds at the resort restaurant that serves flavourful dishes from Indian and Continental cuisines. The barbeque organized in the garden of the resort adds excitement to the stay.
Several facilities that are available at the Tuli Tiger Resort include room service round the clock, laundry and dry-cleaning facilities, fax and conference facility. The recreational facilities that invite the guests include audio visual theaters, pool table, swimming pool and fishing.