Kipling Camp Kanha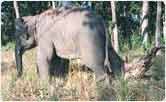 Access : 160 Kilometers from Jabalpur Airport and Railway Station
Accommodation : 18 Double Suite Rooms and 1 Family Cottage
Cuisine : Multi-Cuisine Restaurant
Facility : Well-Stocked Library, Jungle Safaris and Outdoor Sports
Kipling Camp was the first jungle lodge to be set up in Kanha National Park. It was built very close to the Kanha National Park in the year 1990. The camp invites those who wish to relax in the tranquil
surroundings of the resort and the naturalists. It is a simple yet comfortable resort. Tara, an elephant starring in the Mark Shand's best seller "My Travels on an Elephant" lives in Kipling Camp. A stay for at least 3 nights in the camp is recommended to ensure good sightings of wildlife. Arrangements for photographing wildlife and bird watching are made by the camp.
The accommodation at the resort comprises of eighteen double suites that are quite spacious and one family cottage as well. A private porch is present in each cottage style room. The rooms are beautifully restored and tastefully decorated. All rooms have an attached bath and feature amenities that the modern lifestyle demands.
Dine at the multi-cuisine restaurant that serves delectable delicacies from both Indian and international cuisines. Dinners are often organized on the River Banjar which is thoroughly enjoyed by the guests. 'Shamiana', the well-stocked bar at the resort invites you to spend an evening at a leisurely pace. An assortment of spirits is served to the guests here.
Kipling Camp has a lot to offer to its guests. The well-stocked library at the camp has several books based on wildlife and fiction. Those who love to read books can spend enough time here. In case, you are an adventure and sports buff, you can spend time playing volleyball or go for a jungle safari in open jeeps. You can explore the Souvenir shop as and when you wish to. There is provision for screening wildlife films and documentaries too.
Mandla is the town that lies in close vicinity from the Kipling Camp. You can enter the park either from Khatia-Kisli or Mukki.