Birders Inn Jungle Lodge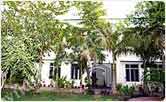 Access: Birders Inn Jungle Lodge is situated 55 kilometres from the Agra Airport, 3 kilometres from the Railway Station and just a kilometre away from the Bharatpur Bus Stand.
Accommodation: 12 air-conditioned rooms
Cuisine: Multi-cuisine
Facilities: Health Club, Beauty Parlor and Doctor on Call.
Birders Inn Jungle Lodge in Bharatpur is situated very close to the Keoladeo National Park. The location of the lodge is very peaceful and tranquil. The guests are treated with finest hospitality while they stay in this resort. Though it is a small lodge, it offers all the modern amenities. A stay at the Birders Inn Jungle Lodge makes the trip to the Keoladeo National Park a perfect holiday.
The accommodation facilities at Birders Inn comprise of 12 stylish and well furnished rooms. Each one of these rooms is equipped with facilities that the modern day living style demands. Air-conditioner, hot and cold running water and coloured television are present in all rooms. All the rooms face the garden which is filled with trees. The view is stunning for its beauty and also soothing.
The multi-cuisine restaurant at the lodge offers an array of delectable delicacies from cuisines of India and abroad. The guests have a vast variety to choose from. Other facilities including services of a naturalist and safaris on request can be arranged.
There is a small library in the resort that one can browse through. There are beautiful paintings of birds, exquisite miniature carvings of animals and other handicrafts that the visitors can pick. The Birders Inn Jungle Lodge is a haven for bird lovers. Return back with a treasure of memories of a pleasurable stay and an enriching wildlife tour.