Wild Haven Resort Bandhavgarh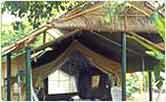 Access : 197 Kilometers from Jabalpur
Accommodation : 14 Residential Units
Cuisine : Multi-Cuisine
Facilities : Room Service, Laundry, Safaris in Bandhavgarh Park, Bird Watching
The Wild Haven Resort near Bandhavgarh National Park in Madhya Pradesh is an ideal resort for the wildlife enthusiasts to stay at. Come to Wild Haven Resort, if you are of a kind who wishes to stay in a peaceful jungle environment. Stay in this resort while you explore the wilds of Bandhavgarh.
The resort covers an area as extensive as 8 acres. The landscape around the resort is dominated by natural grasses and trees like bamboo, sal and dhak. the residential units in the resort comprises of a total of 14 units out of which 6 are traditionally built cottages, 5 are safari tents while the remaining 3 are rooms. The lodging and boarding needs of the wildlife tourists are looked after at its best here. All the rooms are spacious and adorned with beautiful furniture. They have attached bathrooms and other necessary facilities as well.
Walk right in to the resort dining place that serves flavourful dishes from varying cuisines and experience the foods of India. The recreational facilities that the guests can avail include safaris inside the Bandhavgarh Park, nature walk, bird watching. Then, there are group activities and tribal dances that are organized in the open-air amphitheatre.
The land site has several forests adjoining it. For reasons of safety, the ground is all fenced. Numerous birds and mammals live in these surrounding forests. The bird calls here wake you up in the morning while the sounds of mammals often pierce the silence of the star lit nights. Do not miss this great experience in the wilds of Bandhavgarh.