Keoladeo Ghana National Park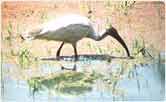 Location: Bharatpur, Rajasthan
Famous For: The Siberian Crane
Ideal Time To Visit: August-November (resident birds) and October-February (migrant birds)
Spread over a total area of 232 square kilometres lies the Keoladeo Ghana National Park which was known as the Bharatpur Bird Sanctuary earlier. The land where Keoladeo National Park stands today served as a hunting preserve for the Maharaja of Bharatpur once. The national park is now amongst the most favoured parks for the bird lovers.
A paradise for the bird lovers, the park houses above 370 species of birds, mammals and reptiles. Migratory birds fly here in august. They undertake a journey above the Himalayas and land at this pasty green paradise. Address of birds like Coot Snipes, Red Crested Porhard, Flamingo, Rosy Pelican and Spanish Sparrow is rewritten as Keoladeo Ghana National Park. Siberian Crane, the rarest amongst all the other migratory birds, is the major highlight of this park. Besides birds, animals also reside here.
The best time to see the bird activities is either the sunset or the sunrise. Both the sunrise and sunset are alluring. No nature lover or animal lover would want to miss this sight. The best way to a close look at the rare bird life found here is to wander around on a bicycle
The holidaymakers that come over the Keoladeo national park can stay inside the park itself. The park houses two forest lodges and two restaurants. These offer basic facilities and food.
Entry Requirements
An entry permit has to taken from the ranger at the entry gate of the park. People from abroad pay 200 rupees while those from India itself pay 25 rupees. If you wish to carry cameras or other photographic equipments inside then you will have to pay a little extra.
Getting There
Keoladeo Ghana National Park is just two kilometres off Bharatpur town. The town is well connected by trains. Regular buses are available from Delhi (176 kilometres), Agra (50 kilometres) and other major cities of the country too. The airport at Agra is the nearest airport, 54 kilometres from Bharatpur. Paid taxis and local buses available from there can help you reach the park.
Don't Miss
While you are on your tour to the Keoladeo National Park spare some time to visit the Bharatpur Museum that displays traditional ancient remains. Then there is Bharatpur Fort constructed by Raja Suraj Mal. Deeg and Dholpur are popular rural areas that are destinations of tourist interest.
You can select a tour package from wide range of available tailor-made India Wildlife Tour Packages, or send your requirement details to get a customized tour package as per your needs.