Bandipur National Park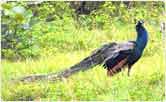 Location: Ooty (80 kilometers), Karnataka
Ideal Time To Visit: April to October
What To See: Asian Elephants and Gaurs
Bandipur National Park lies halfway down the Mysore-Ooty highway. Bandipur is amongst the most famous wildlife reserves of India. Thanks to its moderate temperature and varied geographical features that help the park support a diverse variety of flora and fauna. The Bandipur National Park is no less than a wildlife paradise for the wildlife enthusiasts. The park was announced to be a Tiger Reserve in the year 1973. It also came under the Project Tiger in the very same year. It was notified as a national park in the year 1974.
Bushes and grassy patches are spread all over the landscape of this national park. Dry deciduous and mixed deciduous forests are also observed in the sanctuary. Diverse wildlife inhabits in the Bandipur National Park. Elephants and Gaurs can be observed in large numbers in the park. Several mammals also reside in the park. Vivid bird life also exists in the park making it a paradise for bird lovers. The Bandipur National Park is one of its kinds in entire Asia.
Entry Requirements
Before entering the park all visitors have to get an entry permit which is available at the entry gate of the park. These permits cost Rupees 150 for the foreign nationals and somewhat less for the Indian nationals. Additional charges are tagged for vehicles, jeep rides and cameras.
Getting There
220 kilometers from Bandipur is the airport at Bangalore. It is the nearest from Bandipur National Park. The nearest railhead is Mysore which is only 80 kilometers off Bandipur. Bandipur is connected to Bangalore, Ooty and Mysore through a well-developed network of buses. Private taxis to the park are available from Mysore and Ooty, both 80 kilometers off Bandipur. 
Don't Miss
In order to explore the park at its best open jeep safaris are the best possible option. Vehicles are rented by the park authorities as private vehicles are restricted inside the park. Extra charges are levied for conducting the jeep safaris. Guides with expertise in identifying of wildlife accompany you on these jeep rides. In order to explore the deeper aspects of the forest, the Forest Department makes provisions for elephant safaris as well.
The park offers a vast scope for wildlife photography in close proximity with nature. Additional charges have to be paid for carrying in still cameras and handy cams.
You can select a tour package from wide range of available tailor-made India Wildlife Tour Packages, or send your requirement details to get a customized tour package as per your needs.