Pench National Park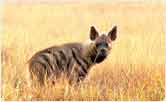 Location: Seoni, Madhya Pradesh
Ideal Time To Visit: November to June
What To See: Tiger and Leopard
The mention of Pench National Park conjures up images of Mowgli and Bagheera, the main characters of Rudyard Kipling's famous tale The Jungle Book. It is located on the border of Madhya Pradesh and adjoins Maharashtra. The Pench river flowing through the park and the open hilly terrain dominated by Teak trees combine to form a beautiful landscape. Thanks to such a landscape that supports diverse flora and fauna in the park.
Dry and moist deciduous forest and climbers are observed in the forested area of the park. The park houses trees like Teak, Tendu, Mahua, Amaltas, Bija and Palas. Bamboo grass dots the valleys of the park. The park functions as a home to numerous endangered species. The tiger population has gone upto 25. Other resident animals that can be observed roaming around in the park include leopard, wolf, wild boar, jungle cat, hyena, jackal, chital, dhol (Indian wild dog), langur, sambhar, gaur and rhesus macaques.
The Pench National Park is no less than a paradise for the bird lovers. Above 300 unique and fascinating species can be seen chirping around in the park. These are parakeets, kingfishers, crested serpent eagle, barbets, orioles, hornbills, wagtails, crested hawk eagle, minivets and white-eyed buzzard.
Getting There
Seoni is the nearest railhead from the Pench National Park. It is just 30 kilometers away from the park. If you wish to travel through a bus or a private taxi, it is just a two hours drive from Nagpur upto the park. Regular flights from Delhi, Mumbai and other important cities in India connect to Nagpur. Another convenient railhead from Pench is Jabalpur, 190 kilometers from the park.
Don't Miss
Located at a distance of 18 kilometers from the entry gate of Pench National Park lies a small village called Pachdhar. It enables the visitors to peep into the rural lifestyle of Madhya Pradesh. Outside every home sits a potter shaping lumps of clay into beautiful art. Watch this fascinating art of pottery and potters working at their wheels. Buy a beautiful piece and take it home. In order to get a closer look of the costumes and culture of the local population, visit the cluster of villages that are in close proximity from the park.
You can select a tour package from wide range of available tailor-made India Wildlife Tour Packages, or send your requirement details to get a customized tour package as per your needs.