Periyar National Park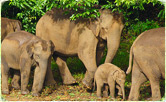 Location: Kumily, Kerala
Ideal Time To Visit: October to June
What To See: Elephants, Greens of the Sanctuary and Bamboo Huts
The wonderful wilds of Periyar Wildlife Sanctuary invite you to capture a glimpse of the wonders of nature. Experience serenity amidst the fresh air of the deciduous forest that fills the atmosphere of Periyar sanctuary. Here you can see playful otters and freshwater tortoise near emerald waters. The tourists come here to see the playful activities of the elephants. Besides elephants, other animals seen in the sanctuary include Gaur, Sambar, Barking Deer, Wild Pigs, Mouse Deer, and Indian Wild Dog. Periyar functions as home to some rare species including Tiger, the Nilgiri Langur, Nilgiri Tahr, Common Langur, rare Lion-tailed Macaque, and Bonnet Macaque.
The vivid bird life that exists here includes Kingfishers, Cormorants, the great Malabar Hornbill, Darters and racket-tailed Drongoes. Reptiles seen on the rocks of the sanctuary comprise of Monitor Lizards, Python and King Cobra.
Periyar sanctuary is undoubtedly a complete Jungle Book. It offers the visitors a facility of staying overnight in the bamboo huts. While you are in the Periyar sanctuary, shake hands with tradition. Take a closer look into the life of the 'Mannas' who are the oldest residents here.
Entry Requirements
The entry permits that are required to enter the Periyar sanctuary are available from the Wildlife Information Centre in Thekkady. The permit costs 50 rupees for the foreigners. Hiring a guide and opting for boat trips are charged extra.
Getting There
The nearest airport from Periyar is situated at Madurai in Tamil Nadu (140 kilometres). Besides this, there is Cochin airport at a distance of 200 kilometres from Periyar. The nearest railhead is Kottayam which is 114 kilometres off Periyar. Kumily connects Periyar through buses from Kottayam, Madurai and Ernakulam.
Don't Miss
Tourism is steadily catching up in Kumily, situated just 4 kilometres off Periyar wildlife sanctuary. The place houses some good accommodation options.
The beautiful Cardamom hills in Kerala can be best explored from Kumily and Periyar. A taxi or a jeep ride will enable you to see these impressive hills closely.
Do not miss this trip while you are in Periyar Wildlife Sanctuary. To observe the wild side of Periyar sanctuary at its best, opt for a Boat Cruise in the Periyar Lake. Though the experience is unusual but it is quite interesting at the same time. The upper deck of the boat is best for viewing wildlife.
Step out of the greens of the Periyar sanctuary and travel to the villages nearby in a bullock cart. This cruise into the interiors of the forest is an experience to cherish forever.
You can select a tour package from wide range of available tailor-made India Wildlife Tour Packages, or send your requirement details to get a customized tour package as per your needs.