Kaziranga National Park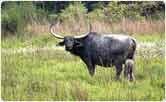 Location: Bokakhat (23 kilometers), Assam
Ideal Time To Visit: Mid-November to Early April
What To See: Rhinos, Leopard and Tiger
The Kaziranga National Park in Assam is situated on the banks of River Brahmaputra. The park is spread over an area of 430 square kilometers. The landscape of the park is dominated by tall elephant grass and swamps. Therefore, it functions as an ideal home for the Indian One-Horned Rhino. Because of the limitless poaching of this animal the park was announced to be a wildlife sanctuary in the year 1940.
Apart from one horned rhino, other animals that reside inside the Kaziranga National park include Indian Elephants, Hog Deer, Indian Bison, Capped Langurs, Swamp Deer,  Tigers, Leopard Cats, Sloth Bears, Jungle Cats, Jackal, Otters, Hog Badgers, Wild Boar, Pythons, Wild Buffalo and Monitor Lizards.
Several birds that inhabit the Kaziranga National Park include Oriental Honey Buzzard,  Black Kite, Himalayan Griffon, Pallas's Fishing Eagle, White Tailed Eagle, Black-Shouldered Kite and Grey-Headed Fishing Eagle. Several migratory birds that fly over to the park during the winter months include Greylag Geese, Gadwall, Ruddy Shelduck, Bar-Headed Geese, Red-Crested Pochard, Falcated Duck and Northern Shoveller.
Entry Requirements
The entry fees that has to be paid in order to enter the park is Rupees 10 for Indian nationals and rupees 200 for foreign nationals. Extra charges are levied for taking in of cameras and personal vehicles, elephant rides and hiring of jeeps. 
Getting There
The nearest airport is at Jorhat which is 97 kilometers away from Kaziranga. Another airport is at Guwahati which is about 217 kilometers from the park. The nearest railhead Furkating is 75 km off Kaziranga National Park. Regular trains are also available to Delhi, Mumbai, Kolkata and Bangalore from Guwahati. Guwahati connects the neighboring states by a well-connected network of roads. Buses and private taxis are available from Jorhat and Guwahati to reach the Kaziranga National Park.
Don't Miss
Viewing wildlife in Kaziranga National Park becomes extremely pleasurable when it is done while riding on an elephant's back. Observe animals like elephants and rhinos that will be seen roaming around the sanctuary freely. The trip to the Kaziranga National Park is quite rewarding as it offers an opportunity to see the animals from very close.
Several other locations for sightseeing that are present in Kaziranga include the lush rubber and coffee plantations in Karbi Anglong. You can also visit the nearby Karbi Village and get a glimpse of the rural lifestyle. Not to forget the far-famed tea gardens of Assam. Film shows based on wildlife can be organized on special requests in the wildlife lodges at Kaziranga.
You can select a tour package from wide range of available tailor-made India Wildlife Tour Packages, or send your requirement details to get a customized tour package as per your needs.